Sex Toys for Adventurous Couples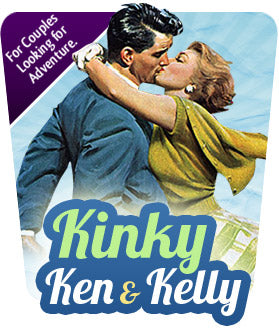 You're a Kinky Ken and Kelly if you're a couple who have experimented with sex toys and are looking for even more adventure. Pick Your Best Vibrator here!
Looking for sex toys to make your sex life even more dynamic? Find the best ones to compliment your relationship at www.Vibrators.com.
Kinky Ken and Kelly - For the Wild Couple Looking for New Sex Toys.
You're a Kinky Ken and Kelly if you're a couple who have used sex toys together before, and want to try something different. Kinky couples might be ready to experiment with the use of vibrators during sex, or with anal play. Whatever your pleasure, we definitely carry products to enhance it.
Vibrating Panties
We love the Little Black Panty because it is a stylish and sexy pair of vibrating panties. Give your lover the remote and enjoy ten vibration settings of naughty pleasure.
Vibrating Pleasure Beads
These anal beads are great for beginners. Instead of the traditional beads-on-a-string design, these graduated anal beads rest on a flexible probe. The multi-speed vibrations help your muscles relax, translating to a more pleasurable experience.
Booty Rocket Butt Plug
The Booty Rocket Butt Plug is little (3 inches by 1 inch) and super flexible and soft. This is a great starter plug. The base is big and it features 10 levels of enjoyable vibration.
The Aneros
The Aneros is made for him, to stimulate the prostate and perineum. This is a premium toy for the ultimate in P-spot stimulation. Once inserted, it works hands-free to massage the prostate. It's great for couples since his hands will still be free.
Check out more sex toys you'll love listed below!